World Record Flights
World Records in aviation are controlled by the Fédération Aéronautique Internationale (FAI), who are based in Lausanne, Switzerland. The FAI are also responsible for controlling all competitive aviation events, such as national and international competitions, such as the Red Bull Air Race. The FAI also works with the national aero clubs in the member states by appointing official observers, who record the performance of competitive flights. There are very strict guidelines governing any flight that is to be claimed as a World Record.
Aircraft are split up into different classes and Balloons are Class A. There are then subclasses - Gas Balloons are Class AA - Hot Air Balloons are Class AX. In each of these sub-classes, there are further divisions depending upon the balloon size with AX1 being the smallest (less than 250 cubic metre volume) up to AX15 (anything over 22,000 cubic metres). A typical sport Hot Air Balloon would be an AX7 or AX8 (2,200 to 3,000m3), capable of carrying pilot plus 2 to 4 passengers.
There are three record disciplines in each subclass - duration, distance and altitude and each subclass has records for General and Feminine attempts.
More details regarding the different categories and current World Records can be found at the following URL - www.fai.org/records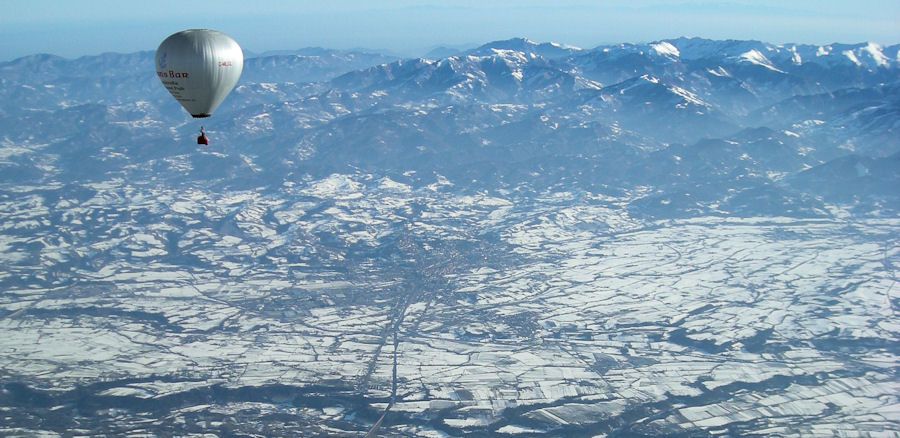 14,000 feet above the Piedmont area of northern Italy, January 2008 breaking two altitude records
Note: As a guide, at 100 deg C, air weighs approximately 250 grams less per cubic metre than air at 15 deg C. Therefore an AX15 balloon has a 'lift' of 5,500kg approx and an AX1 balloon has a lift capability of around 65kg. This lift has to carry the weight of the balloon, burner, fuel and pilot!! It is for this reason that record attempts in the smallest of balloons can only be made in very cold conditions, where increased lift is achieved.
---
September 29th, 2005 - Female AX4 Distance and Duration
January 7th, 2007 - Female AX2/3 Duration
January 14th, 2007 - Female AX-2 Distance record
January 26th, 2007 - AX1 Female Duration, Altitude and Distance
January 24th, 2008 - Female AX3 and AX4 Altitude Record attempts
---
---
Have more questions?
Complete our Contact Form!
Contact Us!